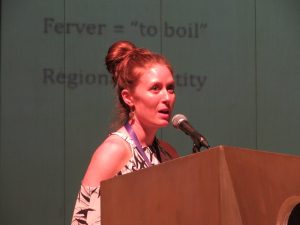 2019 ICTM World Conference in Bangkok
July 2019: I presented my paper, "Carnivalesque Improvisation in Frevo, a Dance of Resistance from Recife, Brazil," at the 2019 International Council for Traditional Music (ICTM) World Conference at Chulalongkorn University in Bangkok, Thailand.
June 2019: I was featured on The Irish Dance Podcast, where I talked with host Martin Percival about my trajectory as an Irish dancer and dance researcher.
Postdoctoral Fulbright
I was awarded a postdoctoral Fulbright U.S. Scholar award for my project "The Frevo Tradition and Pernambucan Cultural Identity in Recife, Brazil." From January to July 2018, I was based at the Universidade Federal de Pernambuco in Recife to study frevo dance and music in Brazil. My research questions related to frevo's origins in capoeira, frevo as a "dance of resistance," and the role of "danças populares" in cultural identity formation in Pernambuco. The project developed out of my dissertation research, which focused on similar themes in dance, music, and festival on the Caribbean island of Montserrat, combined with my interest in Brazilian culture.

Guerreiros do Passo
Photo credit: José Henrique Lustosas Roriz
PhD
I earned my PhD in Dance & Performance Studies at the University of Maryland, College Park. My dissertation is entitled: "Dancing the Archive: Rhythms of Change in Post-Volcano Identities on Montserrat, West Indies." My research investigated the role of dance, music, and festival performances in the formation of national and cultural identities on the Caribbean island of Montserrat.
Montserrat (the "Emerald Isle of the Caribbean") has historical ties to Ireland and performances of "Irishness" there differ from elsewhere in the world, especially during the island's annual St. Patrick's Festival. My project related to larger questions about hybridity in African and Irish rhythms, migration, diaspora formation, and transnational histories.
Read about my fieldwork research experiences on Montserrat and check out my articles:
In November 2017, I was a featured researcher on the new website Academic Stories: "Turning a Passion for Dance into a PhD" by Sarah Binns.

Emerald Shamioles – Montserrat Masquerades
Photo credit: Kate Spanos
Master's
I received my Master's degree in Traditional Irish Dance Performance from the University of Limerick's Irish World Academy of Music & Dance.
I worked in a variety of percussive dance styles including traditional Irish dance (sean-nós and North Kerry/Molyneaux), festival style Irish dance from Northern Ireland, contemporary Irish dance, tap, flamenco, clogging, and body percussion. My thesis performances included both solo and ensemble work, including my solo called "Color Play" about synesthesia and colored rhythms.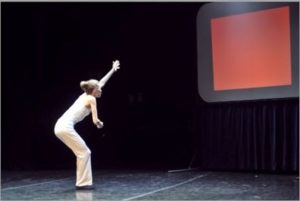 Color Play
Photo credit: Maurice Gunning
Bachelor's
I received my Bachelor's degree from the University of Virginia in Charlottesville in Cognitive Science, with a minor in Computer Science and a concentration in Neuroscience.
I worked as a teaching assistant and research assistant in the Levy Lab on neural networks, and also as a research assistant in the Kubovy Lab (Perception), where I researched the perceptual phenomenon called synesthesia (read Journal of Vision, Psychology Today, and UVA's Arts & Sciences article).