Local Old Style is an intensive to jump-start a study of Irish sean nós (old style) dance and related forms including classes in Irish set dance and battering, old style solo set dances, Northern Ireland Festival Style, and sean nós for improvisation and musicality, featuring local Irish dance teachers Shannon Dunne, Megan Downes, Kate Spanos, Kelly Smit, and Rebecca McGowan. Students are given the opportunity to perform in an Institute of Musical Traditions-produced instructor showcase/concert Sunday evening April 14th in choreography arranged by Matthew Olwell and Emily Oleson of Good Foot Dance Company. Billy McComiskey, Graham DeZarn, and Dan Isaacson comprises the band for the Local Old Style Concert at 7:30 Sunday April 14th at the Takoma Park Community Center – NOT to be missed!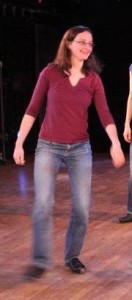 Tickets available at imtfolk.org.
Workshop schedule:
Saturday, April 13th
3:00-4:15 Kate Spanos, Festival Style, Northern Ireland
4:30-6:00 Shannon Dunne, Sean Nós Steps and Technique
6:30-7:45 Megan Downes, Set Dance Figures and Battering
8:00-9:00 Emily Oleson, Begin choreography for group piece (concert participation optional)
Sunday, April 14th
9:00-10:15 Rebecca McGowan, Old Style Solo Sets
10:30-12:00 Kelly Smit, Improvisation with Musicality & "Making it Your Own"
1:15-3:15pm Concert Rehearsal led by Good Foot
7:30pm IMT concert at Takoma Park Community Center
Workshop descriptions:
Festival Style – Saturday 3pm – Kate Spanos teaches a very slow jig and says: "Festival style is from the Belfast area of Northern Ireland and was developed by Patricia Mulholland (or "Miss Mulholland") in the 1950s to draw the focus of Irish dance away from the "pageantry" of feis style and more towards individuality. Festivals last 4-5 days and never fall on Sundays due to religious observance. The costumes are simpler and dancers do not wear wigs; their slip jigs and set dances are much slower than their feis style counterparts, and dancers pay particular attention to the "light/shade" parts of their music. Grace, elegance, and control are key features of Festival style; one of their distinctive motifs is the "burl" or turn/spin. I learned the style from Ruth Long of the Royal Tara Dance Academy in Carrickfergus and Larne while studying at the University of Limerick in their MA program in Traditional Irish Dance Performance; the tune we used in class is called "Aoibhell, the Fairy Queen" and was composed by pianist and dancer Francis Ward."
Sean Nos – Saturday 4:30pm – Shannon Dunne teaches patterns that are shorter than 8 bar steps, and three repeating patterns from Padraig oHoibicin, as well as 8 bar steps with out and in steps and a heel and toe pattern from Roísín Ní Mhainín.
Set Dance – Saturday 6:30pm – Megan Downes teaches a battering pattern in an advance and retire, emphasizing the social and improvisational context of the dance. The class is more about getting into a group groove or group flow than getting every sound exactly every time. In fact, one of the take homes is that you have a basic pattern and can throw in louder more complicated stuff as seasoning (but not all the time).
Old Style Step Dance – Sunday 9am – Rebecca McGowan teaches a hornpipe set dance called Job of Journeywork from Michael Tubridy.
Improvisation and Musicality – Sunday 10:30am – Kelly Smit leads exercises including changing the phrasing and emphasis of steps from the downbeat to the upbeat, taking a phrase in the music and interpreting it closely, finding an ending landmark that you know you're going to end with, passing ideas back and forth in small groups, and really exchanging with musicians.
About the instructors:
Kate Spanos is a PhD student at UMD College Park.
Shannon Dunne teaches classes and camps almost constantly, performs, organizes and runs Shannon Dunne Dance.
Megan Downes teaches in NYC and calls sets at the Second Sunday Ceili at Liam Flynn's Ale House
Rebecca McGowan runs Dance House – a community house concert and social dance series featuring local traditional step dancers and musicians.
Kelly Smit performs regularly with Dan Isaacson, teaches dance in Baltimore, and helps with the Second Sunday Ceili at Liam Flynn's Ale House.
Matthew Olwell and Emily Oleson are Good Foot Dance Company and will soon be at Davis & Elkins College to kickstart a new Dance major.